Eurowash, with its headquarters located near Białystok, provides metal processing services using a proven method - laser cutting. We have high-tech equipment that also allows engraving, marking and scoring. Individual Clients and companies are invited to establish cooperation. We provide expert advice and execution of orders on the spot, with no long wait times.
Laser cutting - characteristics and application
It is a thermal separation method in which the surface of the material is strongly heated with a special beam until it melts or vaporises completely. Such metalworking is used in many industries, e.g., automotive, mining, machinery, aerospace, construction or furniture.
The described method is popular for many reasons. The key advantages are:
great precision - the mark left by the beam is narrow, which allows achieving any shape; in Eurowash, we have a machine that cuts with an accuracy of 0.05 mm and also corrects the path of the beam if the original pattern is distorted;
effectiveness with a wide range of materials, both organic and inorganic;
no need to perform post-treatment, such as sandblasting or mechanical sealing, due to the fact that the edges are profiled properly;
high speed of operation - the machine we use guarantees high positioning speed, up to 350 m/min;
repeatability - at the level of 0.03 mm, which ensures the achievement of identical effects even in the case of a large batch of materials.
Key advantages also include the ability to achieve both simple and complex patterns, also on small areas, in the case of which the use of a traditional saw would be impossible.
We use modern equipment
In our production facility, located near Białystok, we use equipment by Eagle. It allows cutting within three axes (X, Y, Z). As a result, the produced elements are resistant to the influence of various external factors, including mechanical damage. All of this thanks to the use of durable components:
eVa cutting head - it consists of only three consumable parts, which reduces the risk of failure (they are optical elements, two lenses and one piece of protective glass);
composite body - weather conditions and vibrations do not adversely affect its operation; it also has a high heat capacity;
linear motor - its advantages are low failure rate, no maintenance requirement, high operating dynamics;
traverse (cross beam) made of fibreglass, which reduces weight and ensures stiffness.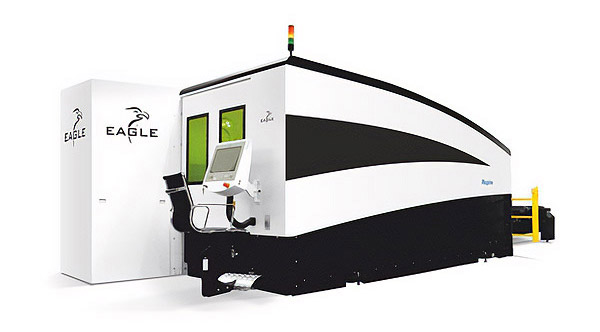 The machine is distinguished by its wide range of applications - it is suitable for black steel, stainless steel, aluminium, brass and copper.
Laser engraving
A specific shape, e.g., a logo or company name, a sentence or a graphic motif is burned on the surface of a material (aluminium, silver, bronze, platinum, copper) The pattern is durable and resistant to abrasion, for instance.
Other advantages of laser engraving are:
possibility of obtaining identical results on all surfaces, which is important, i.a., in the case of products manufactured by one entity, for example, elements for a car wash;
Great precision, which allows you to quickly engrave logos regardless of their sizes.
This method is a combination of aesthetics and accuracy, which is why it is very popular among our Clients.
Laser marking
It allows creating detailed graphics on the material - even if it is a small font and complex shapes. The motifs obtained thanks to laser marking are resistant to abrasion, high temperature and acids.
Laser scoring
It involves making small hollows on a specific surface, for example, along a designated axis. It is a preparatory stage for drilling as well as for routing (line marking). This process is used, for example, in the automotive and furniture industries, as well as in the production of elements of various types of structures, e.g., for modular or container car washes. Laser scoring guarantees high precision - it is possible to create microscopic dots on very small surfaces.
Wide range offer of Eurowash located near Białystok
Individual Clients and companies are welcome to take advantage of our services - we offer professional machining. We use modern equipment, thanks to which we execute orders accurately and quickly.
Learn more about our services